Smoked Turkey and Collard Green Eggrolls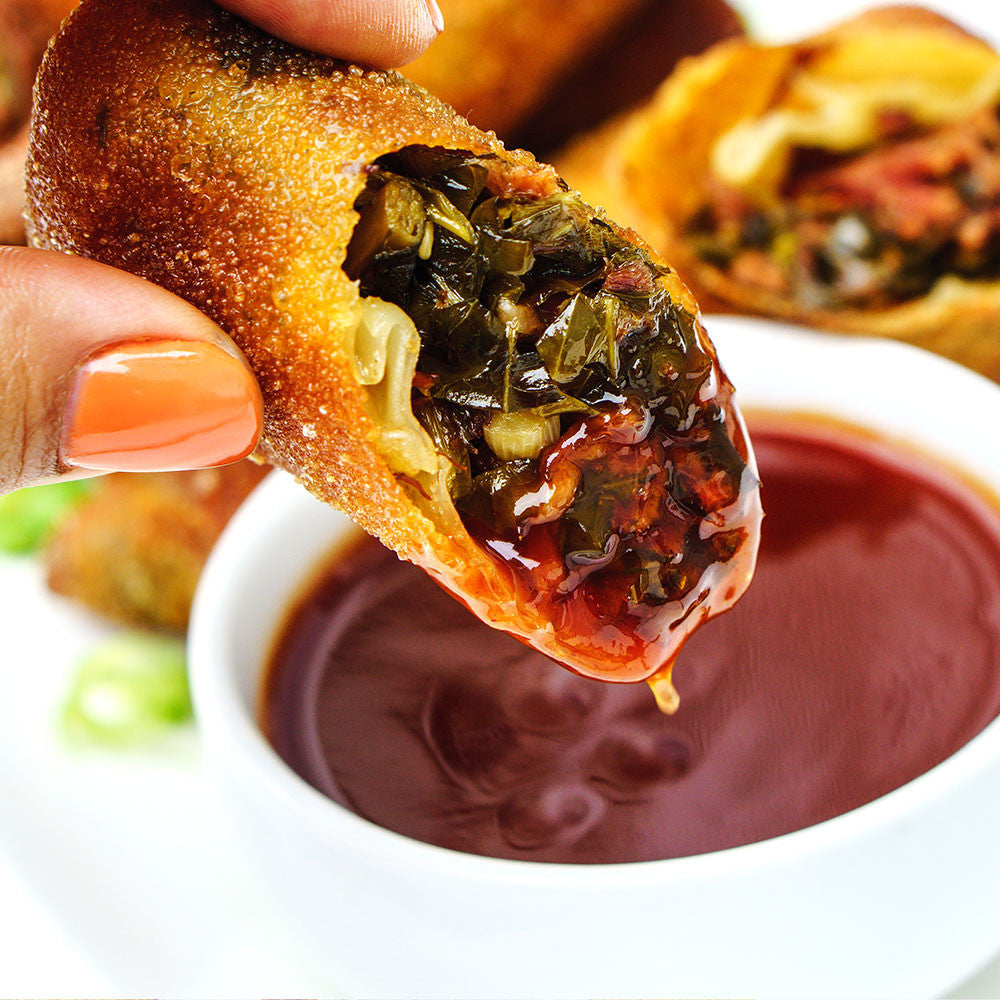 NOTES
Servings: 10
Active Time: 1 hour
Total Time: 4 hours
INGREDIENTS
2 lbs smoked turkey necks or wings
Several sprigs of fresh thyme
1 large onion
Peanut oil, as needed
Kosher salt, as needed
2 tsp sesame oil
3 cloves garlic, minced
1" knob fresh ginger, peeled and minced
1/4 tsp crushed red pepper flakes
1/4 tsp black pepper
1 tsp smoked paprika
1/4 cup apple cider vinegar
4 cups finely chopped collard greens, stems removed
1 tbsp soy sauce
1 bunch scallions, sliced
10 egg roll wraps
Mambo sauce, for serving
INSTRUCTIONS
Add the smoked turkey, thyme and half the onion to a large pot. Add water to cover. Bring to boil, then reduce heat to medium low. Cover and cook until turkey is tender and falling off the bone, 1 to 2 hours. Remove the turkey from the pot and set aside to cool. Strain the broth, discarding the thyme and onion. Reserve 1 cup of the broth and save the remainder for another use. Shred the turkey meat once cool enough to handle, discarding bones, skin, and cartilage.
Dice the remaining onion half. In a skillet over medium heat, add 1 tablespoon of peanut oil and the sesame oil. Once oil is shimmering, add the diced onion. Cook the onion just until it softens.
Add the garlic, ginger, red pepper flakes, black pepper and smoked paprika. Season with a pinch of salt. Cook for another minute until fragrant.
Deglaze the pan with vinegar, scraping up any browned bits. Add the shredded smoked turkey, cup of reserved smoked turkey broth and bring the mixture up to a boil. Add the chopped collard greens. Reduce heat to medium low and simmer until all liquid has evaporated and collard greens are tender, about 15 minutes. Stir in the soy sauce and scallions. Season to taste with salt, if needed. Transfer greens to a clean dish and refrigerate until completely chilled.
Prepare a clean flat surface to assemble egg rolls. Fill a small dish with water. Add 2 to 3 tablespoons of the cooled collard greens filling to the center of an egg roll wrap. Fold bottom corner over the filling.
Dip your finger in the water and moisten the border of the wrap. Fold both sides securely over the filling, then roll the wrap up to seal.
Place the egg rolls on a parchment or wax paper lined baking sheet until ready to cook. After assembly, egg rolls can be covered and refrigerated for a few hours, or fried immediately.
To fry, heat peanut oil in a deep fryer to 350°F per manufacturer's instructions, or heat 2 inches of oil in a heavy Dutch oven pot or skillet, monitoring the temperature with a thermometer. Once oil is hot, add a few egg rolls at time, seam side down. Turning occasionally, fry until deep golden brown, approximately 3 minutes. Transfer cooked egg rolls to a paper towel lined plate and continue with remaining batch.
Serve hot with mambo sauce on the side for dipping.