Mambo Shrimp Fried Rice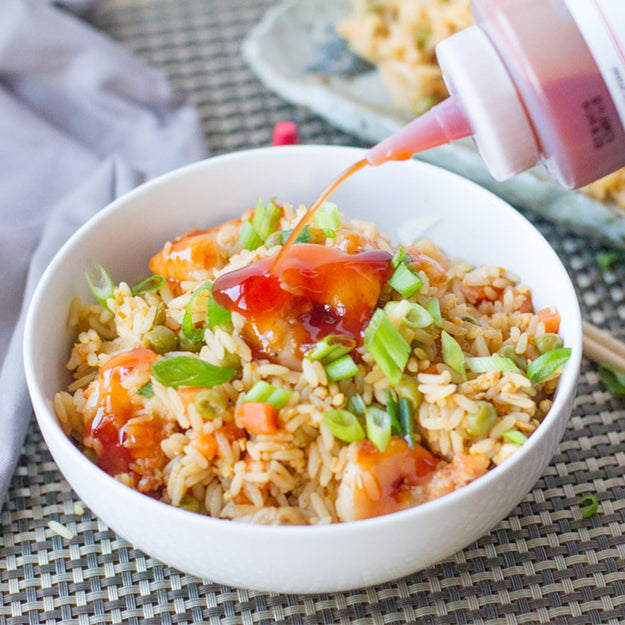 Serves: 4
Time: 20 minutes
INGREDIENTS:
1/3 cup Capital City Mambo Sauce, plus garnish
1 pound medium shrimp, peeled and deveined
Salt and pepper to taste
1 tablespoon canola oil
1 tablespoon soy sauce
2 cloves garlic, minced
1 onion, diced
2 cups frozen peas & carrots
3 large eggs, lightly beaten
3 cups cooked rice
2 green onions, sliced (plus garnish)
INGREDIENTS:
Heat a large skillet over medium heat, add mambo sauce reduce and thicken for 3-5 minutes, stirring occasionally. In a bowl season shrimp with salt and pepper then add to the skillet to cook for 1 minute each side. Remove shrimp, place on a plate and set aside.
Heat a 12-inch skillet over medium heat, add the oil to the pan along with the onion. Sauté, stirring frequently, about 3-4 minutes. Add peas, carrots and garlic and sauté for another 3-4 minutes.
Push vegetables to one side of the skillet, add eggs to the other side and scramble for 1 minute.
Increase heat to high and add in soy sauce, rice, green onions and stir to combine. Stir constantly for 2 minutes. Add salt and pepper to taste.
Stir in shrimp garnish with green onion, drizzle extra mambo sauce and serve immediately.
Note: The best fried rice is made with day-old rice because it's drier and not so sticky.