Mambo Sauce Braised Short Rib Tacos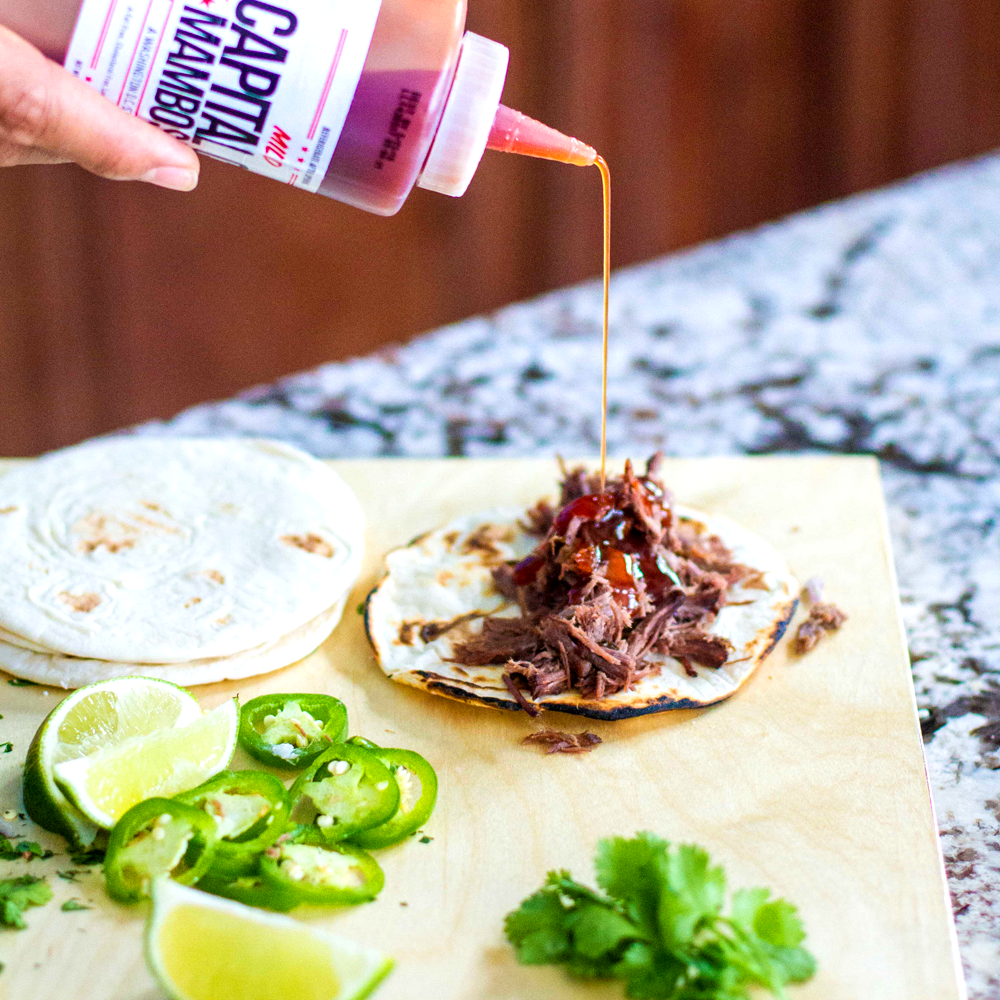 Prep Time - 20 min.
Total Time - 6 hr.
Servings - 14-16 tacos
INGREDIENTS
Short Ribs Ingredients
8 meaty bone-in beef short ribs
1 tablespoon plus 2 teaspoon Kosher Salt  
2 tablespoons plus 2 teaspoon Ground Black Pepper
2 teaspoons plus 1 teaspoon Onion Powder
2 teaspoons plus 1 teaspoon Garlic Powder
¼ cup flour
2 tablespoons canola oil
1 large onion, coarsely chopped
2 large cloves garlic, minced
1 cup red wine
2 tablespoons Worcestershire sauce
2 ½  cups of beef broth or water
1 cup Mambo Sauce (plus additional for topping)
Taco Ingredients
16 Small Flour Tortillas
Shredded Short Ribs
16 oz. Crumbled Goat Cheese
Optional:
Coleslaw
Cilantro
Jalapeños
Lime
Short Rib Instructions
Generously add seasoning (1 tablespoon salt, 2 tablespoons black pepper, 2 teaspoons garlic powder, 2 teaspoons onion powder) to each side of short ribs then season flour with remaining seasoning; dredge short ribs in flour.

Heat oil in large heavy bottom skillet on medium high heat. Add in short ribs and brown well about 2 minutes each side. Add short ribs to your slow cooker.

Reduce heat of skillet to medium, add onions and garlic and cook for 2 minutes or until softened. Add in wine, Worcestershire sauce, beef broth and mambo sauce and using a wooden spoon scrape up the flavorful bits on the bottom of the pan, while bringing mixture to a boil.

Pour mixture into the slow cooker over the short ribs. Cover with lid.

Cook on HIGH for 6 hours.  Meat should be tender and easily fall off the bones.
Taco Instructions
Remove the bones and use a fork to shred the meat. Once shredded, stir meat with residual sauce. Taste and add additional salt if needed.

Drain each serving of meat before adding it to a warm tortilla and top with goat cheese crumbles, coleslaw, freshly chopped ingredients: cilantro, onion, and jalapeno. Finish by generously drizzling extra mambo sauce over the top. Enjoy!