Mambo Glazed Smoked Ribs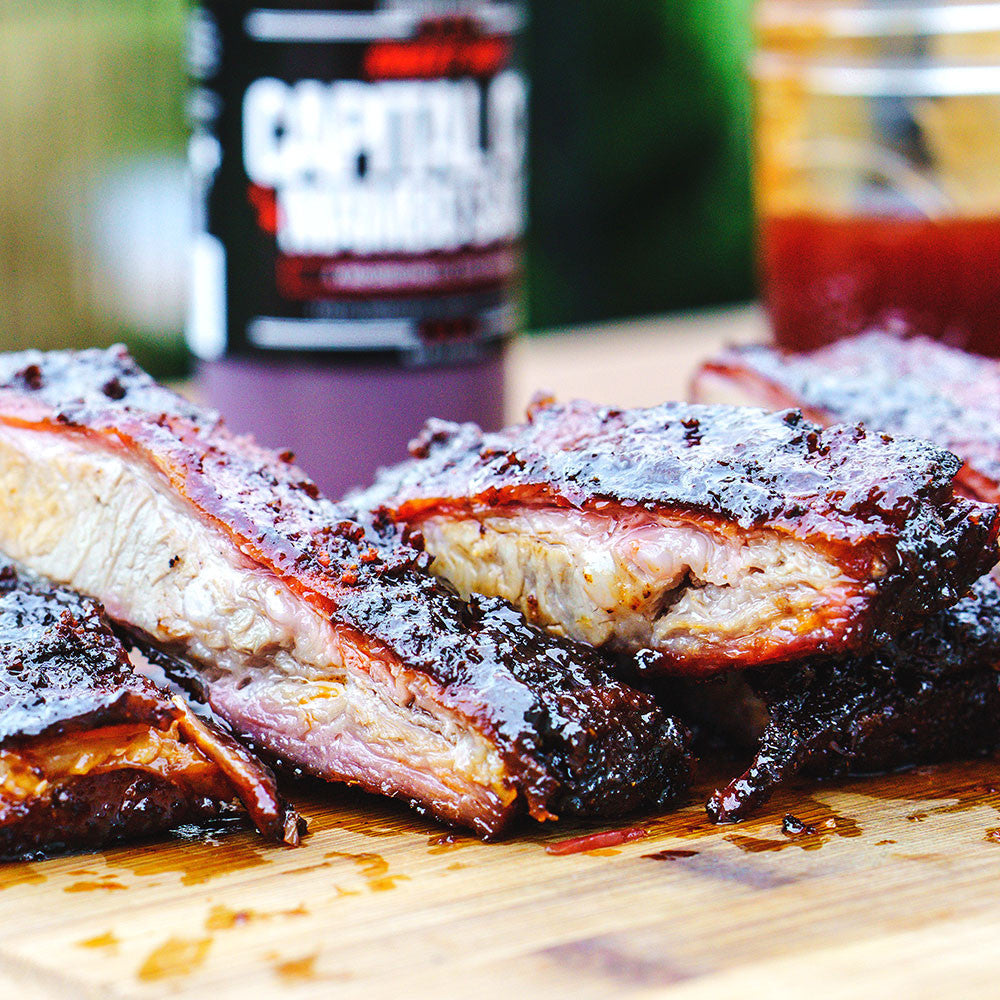 NOTES
Servings: 6
Active Time: 1 hour
Total Time: 8 to 24 hrs
INGREDIENTS
2 slabs baby back or St. Louis style spare ribs; about 5 to 6 lbs total
4 tsp Kosher salt
1/4 cup paprika
2 tbsp turbinado sugar
1 tbsp black pepper
1 tbsp onion powder
1 tbsp mustard powder
1 tsp garlic powder
1 tsp cayenne
1 tsp ground ginger
1 bottle Sweet Hot Mambo Sauce
INSTRUCTIONS
Pull off the thin tough membrane on the backside of the ribs. Season both racks of ribs liberally with salt.
Mix the sugar and spices together, then rub into the surface of the meat. You may not need all the rub. Shake off excess spices and discard. Set the ribs on a baking sheet, cover with foil, and refrigerate at least 4 hours but preferably overnight.
Prepare charcoal grill for indirect heat, arranging lit coals on one side of the grill, leaving the opposite site empty. Place an aluminum drip pan on the empty side of the grill and fill with water. Add a few chunks of apple wood to the hot coals. Cover grill and adjust dampers to stabilize the grill temperature to fall between 225°F and 250°F. Alternatively, prepare a smoker for the same temperature range. Brush grates with oil and arrange ribs on cool side of the grill, meaty side up. If you have them, rib racks can be used instead of placing ribs directly on the grill.
Cover grill, positioning the lid so that the exhaust damper is over the ribs. Smoke for 2 hours, maintaining the temperature of the grill. Rotate the ribs after 2 hours. Cover grill and continue to smoke another 1 to 2 hours, or until a knife can be easily inserted between the bone. Spare ribs will typically take longer to cook than baby back ribs.
In the last 30 minutes, move ribs to the hotter side of the grill, over the hot coals. Using a silicone brush, baste the ribs with mambo sauce every 10 minutes.
Transfer smoked ribs to a cutting board. Rest for at least 15 minutes before slicing between the bones to serve, with additional sauce if desired.