Fried Chicken & Waffle Sandwich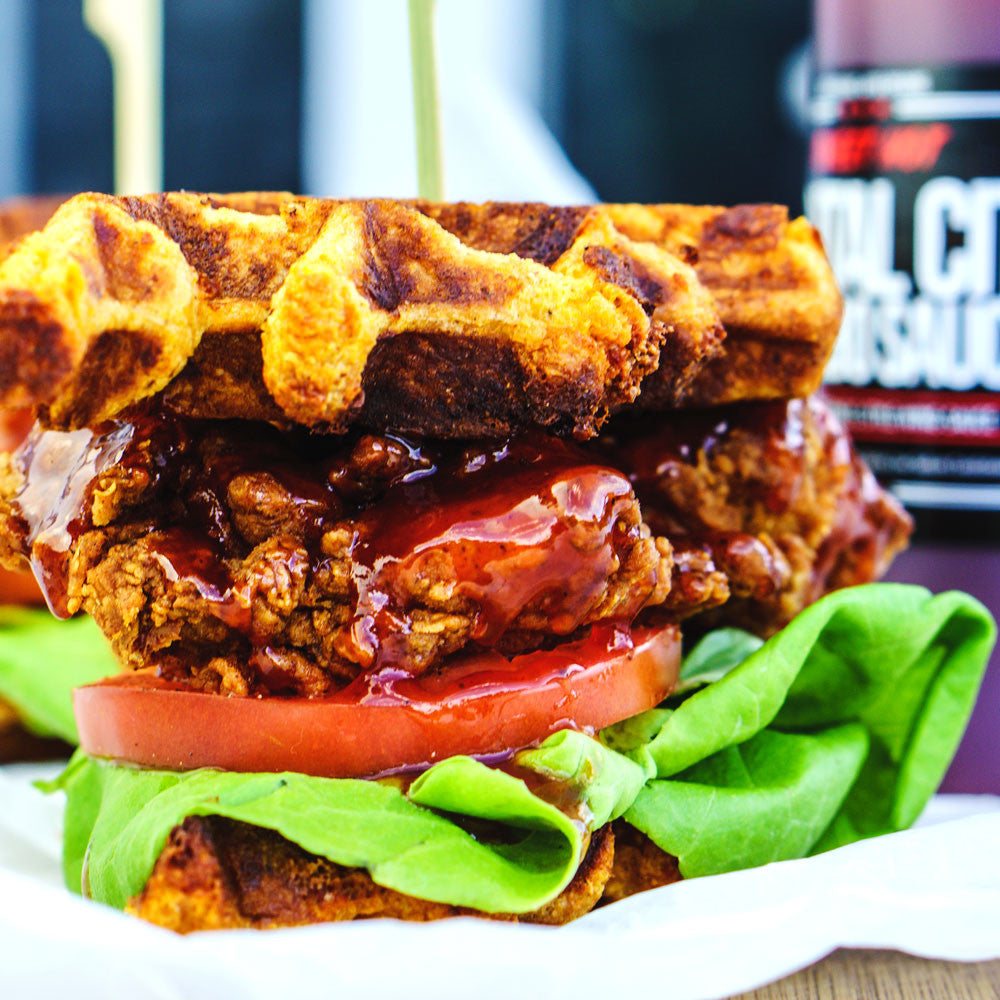 NOTES
Servings: 4
Active Time: 1 hour
Total Time: 6 hours
Chicken can be prepared up to 2 days in advance and reheated; waffles are best served fresh immediately after cooking.
INGREDIENTS
For the fried chicken:
4 boneless skinless chicken thighs
2 tbsp Kosher salt, divided
2 cups buttermilk, divided
1 egg
2 cups all-purpose flour
1/2 tsp baking powder
1 tbsp smoked paprika
1 tbsp black pepper
1 tsp garlic powder
1 tsp onion powder
1 tsp cayenne
1 tsp oregano
Peanut oil, for frying
For the cornbread cheddar waffles:
1/2 cup all-purpose flour
1/2 cup yellow cornmeal
1 tsp baking powder
1/2 tsp baking soda
1/2 tsp Kosher salt
1/2 tsp black pepper
1 cup buttermilk
1 egg
3 tbsp melted butter plus additional for waffle iron
1/2 cup shredded sharp cheddar cheese
For the sandwich assembly:
1/4 cup Sweet Hot Mambo Sauce
Sliced tomato
Lettuce
Kosher salt and pepper, as needed
INSTRUCTIONS
Fried chicken:
In a bowl, toss the chicken thighs with 2 teaspoons Kosher salt. Submerge chicken in 1 cup of buttermilk. Cover bowl and transfer to fridge for at least 4 hours, up to overnight. Whisk the remaining buttermilk with the egg in a separate bowl; keep chilled until needed. In a third bowl, combine the flour, remaining salt, baking powder and spices.
Drain the buttermilk from the marinating chicken thighs and pat dry with paper towels. One by one, dredge the thighs lightly with seasoned flour, shaking excess back into the bowl. Set on a clean pan. After all the thighs are dredged, one by one dip the thighs in the buttermilk and egg mixture, allowing excess to drip back into the bowl. Press the buttermilk coated thighs back into the seasoned flour, coating generously on each side. Shake off excess flour and transfer chicken thighs back to the pan. Allow to set for 15 minutes.
Heat peanut oil in a deep fryer to 375°F per manufacturer's instructions, or heat 2 inches of oil in a heavy Dutch oven pot or skillet, monitoring the temperature with a thermometer. Carefully drop chicken thighs into the hot oil and fry until golden brown, flipping once, about 6 to 8 minutes. Use a thermometer to check the center of each thigh for doneness; it should be at least 165°F. Fry the chicken thighs in batches if needed, don't crowd the pot. Allow the oil to come back up to 375°F between batches.
As thighs are cooked, transfer to a clean pan fitted with an oven safe metal rack. The chicken can be kept warm in an oven heated to 200°F, or prepared in advance and refrigerated. Reheat at 350°F when ready to serve.
Waffles:
In a medium bowl, combine the flour, cornmeal, salt, baking powder, baking soda and black pepper. In a separate bowl, whisk together the buttermilk, egg and 3 tablespoons of melted butter. Stir in the cheese. Allow the batter to rest for 10 minutes, meanwhile heat the waffle iron to its highest setting.
Brush waffle iron with some of the remaining melted butter and pour in batter (amount will vary by appliance, so use enough to make one full sized waffle.) Cook per manufacturer's instructions, until waffle is crisp and golden brown. Remove and set aside on a clean pan and continue with remaining batter.
Assembly:
Drizzle the warm fried chicken thighs with mambo sauce. Season tomato slices with salt and pepper. Cut the waffles in quarters or halves, depending on size.
Stack four of the waffles with lettuce, a sliced tomato and a chicken thigh. Top with remaining waffles and secure with sandwich picks, if desired. Serve immediately.